The remit of Contemplative Outreach is very simple. It is to teach the method of Centering Prayer and support those that practice it. The method can be learnt at an all day workshop or a series of shorter sessions that cover all the topics of a workshop. A shorter-still version is a "taster" where the very basics of the practice are offered so that you can get a sense of what Centering Prayer is about and how to get started in the practice. A longer experience may be had by attending an Introductory Weekend.
Even though many of us may have read about Centering Prayer and are already practising it according to the instructions given in most books written about it, the benefits of attending an introduction in person is that our questions can be answered. We will have in front of us a committed practitioner who has the experience to be able to affirm and reassure us that in spite of what we might think we are on the right track. The simplicity of the method of Centering Prayer can be difficult at first to accept.
In the light of this, and in order to maintain the integrity of the practice, Contemplative Outreach from early on developed a programme to train individuals to "present" the Method of Centering prayer. Over the last eighteen months, Contemplative Outreach London has hosted two training weeks at the House of Prayer at East Molesey and nineteen people have been trained. Over the last few years another three people have attended training weeks held in Dublin hosted by Contemplative Outreach Ireland.
If you are interested in knowing more about Presenter Training and the requirements needed in order to take part please contact Jill Benet.
The first training week (February 15 - 19, 2016) was led by Sr. Fionnuala Quinn, currently the Contemplative Outreach International Coordinator and Jill Benet, currently London Coordinator.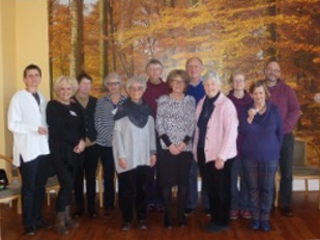 Participants at the 2016 Training Retreat.
From the left: Teresia Hasanova, Christiane Ghose, Susan Taylor,
Lynne Scholefield, Brenda Bayne, Ruth Flockhart, Jill Benet, John O'Brien,
Fionnuala Quinn, Debbie House, Denise Moll and Iain Macfarlane.
Susan Taylor had this to say about the training retreat:
Looking around unsuccessfully for a taxi at Hampton Court Station, I noticed somebody else on the same mission and we discovered we were both going to the House of Prayer. As there were no cabs, we got our exercise walking briskly for 20 minutes plus to Seymour Road. I'd made it from Eastbourne. My fellow-pilgrim had come down from Inverness but we completed the last lap together and were in time for lunch.

This was the start of a wonderful week of happy encounters. There were ten of us on our way to being Presenters-in-Training. Fionnuala, the international co-ordinator, and Jill, our London co-ordinator, very gently took charge and together we blossomed. Our gathering was ecumenical. The South-East was well represented but people had come from further afield, from Norwich, Yate, Inverness and the Czech Republic. This was certainly an intensive experience of Christian Community.

We all wanted to be able to present Centering Prayer with integrity. Of course our own practice is key and we are all very familiar with the Guidelines; but presenting them to a group is something else. Thomas Keating and his collaborators have provided well-honed teaching materials. Fionnuala and Jill modelled the programme and we each had the opportunity to make our presentations in a small group and to everybody. Feedback from self, group members and our trainers followed. This whole process was a special grace for each person. We grew in competence and confidence. We grew as people and in our understanding and appreciation of each other, and the need to develop a contemplative stance in life. And it wasn't all work. We had fun making community too.

We received guidance and more materials to help our deepening understanding of what we and Contemplative Outreach are about, its communication in life and to others when we are invited to do so. We are grateful for the inspiration we have received and the efforts of so many down the years which has brought it to us.

The community at the House of Prayer looked after us beautifully. This also is a home of silence, solitude, simplicity and service.

Thank you again, very much indeed.
Susan
The second week (February 27 - March 3, 2017) was led by Fionnuala Quinn and Jill Benet joined by Brenda Bayne, an experienced facilitator and Presenter from Chichester.
Participants at the 2017 Training Retreat.
Standing from left: Monica Wilson, Barbara Field, Clare Chigweder,
Pauline Hancock, Ingrid Bowie, Anna-Stina Ponsford, Emma Lanham,
Tim Hamilton, Wrio Russell.
Seated from left: Jill Benet, Fionnuala Quinn, Brenda Bayne.
Wrio Russell wrote about this retreat:
"The fundamental goodness of human nature ... is an essential element of Christian faith. This basic core of goodness is capable of unlimited development." So writes Fr Thomas Keating in 'Open Mind, Open Heart'. And, judging by my experience of our Centering Prayer Presenters' training course which took place recently under the wonderful guidance of Sr. Fionnuala Quinn OP and Jill Benet at the House of Prayer, it rings very true. Never have I been dragged so profitably out of my comfort zone and come to realize the value of it so clearly. With no time to waste, we had to present the carefully drawn-up four sessions of an Introductory Day to Centering Prayer to the other members of our two groups, nine of us in all, and open ourselves to their scrutiny. It was not a comfortable thing to do.... but great experience nevertheless. And the 'fundamental goodness of human nature' shone through and bonded us swiftly into a team of loving souls who worked quite beautifully together. The anxiety and the fatigue were worth it.

The work of the course was interspersed with two periods each day of meditation and some wholesome meals which nourished and maintained us. Then. . . plop, dear Jill dropped another jolly event into our programme - a social get-together for the last evening. Could we muster the energy? Yes, we could only too well and it was a lot of fun. It enabled us all to release our tensions before hitting the hay for the last time. New knowledge, new experience......... . Thank you, all, especially Jill, Fionnuala and Brenda for your love and wise guidance.
With love and God bless, Wrio